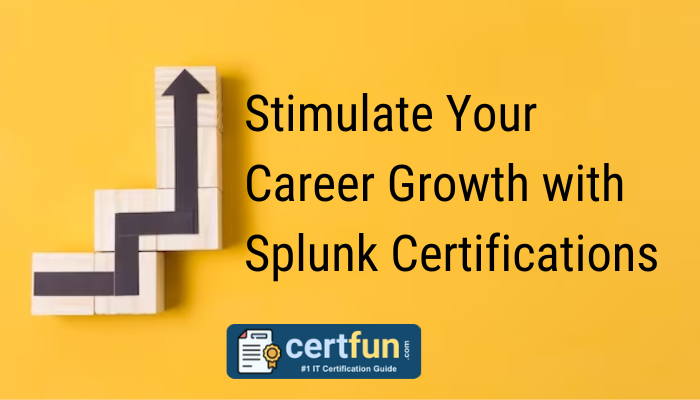 In the past ten years, there has been a significant rise in the production of machine log data due to the growing demand for machines and the proliferation of IoT devices. The analysis of this data holds immense importance as it contains valuable insights that can help solve various problems. Understanding customer behaviors and requirements is crucial for delivering enhanced services. Nonetheless, analyzing such vast amounts of data is a complex undertaking. So, how can we accomplish this? The answer lies in acquiring Splunk certifications—by learning and earning these certifications, you can effectively navigate the process of data analysis.
What Are the Benefits of Splunk Certifications?
Splunk is an exceptional tool that can yield data-driven outcomes that are advantageous for any organization. Particularly within the IT industry, Splunk can prove to be highly beneficial. Here are a few key reasons why:
Accessible learning materials for Splunk certification exams are within reach for anyone.

The platform offers a user-friendly interface.

The reporting is streamlined and ensures ease of reading.

Efficiently manages and organizes data from different file types.

Enables real-time processing and issue resolution.

The information generated by automated processes.

A certified Splunk user possesses the skills to utilize fields, generate alerts, and develop basic statistical reports and dashboards within the Splunk Enterprise or Splunk Cloud platforms. These Splunk certifications serve as evidence of an individual's proficiency in effectively navigating and utilizing the Splunk software.
Top 4 Reasons To Achieve Splunk Certifications
Splunk certifications are experiencing a surge in demand and popularity within the industry, making them highly sought after by professionals. Achieving Splunk certification opens doors to lucrative job opportunities with attractive salaries. Given the widespread recognition and desirability of Splunk certifications, let's explore why obtaining a Splunk certification is a significant achievement.
1. Promising Career Path
Is pursuing a career in Splunk worth it? This question often arises when considering this field as a career path. The answer is a resounding yes! Splunk is worth pursuing as a career due to its strong market demand. It has established itself as a standard tool for collecting and managing machine data in various industries. One of the critical advantages of acquiring Splunk skills today is the scarcity of professionals compared to the high demand for specialists. This translates to fewer competitors in the industry, leading to abundant job opportunities and higher earning potential. Therefore, if you aspire to become Splunk certified, there's no better time to embark on this rewarding journey.
2. Wide Range of Career Opportunities
Attaining certification in any of the Splunk certifications will unlock numerous rewarding career opportunities in big data architecture, administration, and management. Research indicates a projected 28.9% surge in demand for skills related to Splunk over the next ten years. Additionally, Splunk is extensively utilized and experiencing a notable rise in popularity among businesses.
3. Substantial Rise in Income
Obtaining Splunk certifications can lead to a remarkable boost in your salary. Entry-level professionals in Splunk can typically expect to earn around $80,000 per year, but as your skills and expertise progress, your earning potential can exceed $100,000. Statistics indicate that the salary for Splunk software developers begins at $103,000, and professionals with three to five years of experience can earn up to $114,000. Therefore, considering the potential financial rewards, opting for a career in Splunk is wise.
4. Proof of Accomplishment
Obtaining Splunk certification is a testament to your outstanding abilities and demonstrates your dedication, perseverance, and diligent efforts. These certifications enhance the worth of your resume and serve as evidence of your verified skills and expertise. Employers actively seek professionals who hold Splunk certifications. By earning these certifications, you can secure employment more swiftly and highlight your notable achievements.
The Top Five Must-Have Splunk Certifications You Shouldn't Miss!
This certification serves as an introductory level, allowing individuals to explore field searching, look-ups, and the creation of fundamental statistical reports and dashboards within the Splunk Enterprise or Splunk Cloud Platforms. It showcases the individual's proficiency in navigating and utilizing the Splunk Software.
A Splunk Core Certified Power User possesses a fundamental comprehension of SPL searching and reporting commands, proficiently creates tags and event types, utilizes macros, and applies data normalization using the Common Information Model within the Splunk Enterprise or Splunk Cloud Platforms.
A Splunk Enterprise Certified Admin is responsible for the daily management of various aspects of Splunk Enterprise, such as data ingestion, Indexers, search heads, license management, configuration, and monitoring. This certification, designed for Enterprise Administrators, represents a moderate-level proficiency in supporting the administration of a Splunk Enterprise environment.
This certification focuses on advanced behaviors and visualizations, app planning, creation, and packaging, as well as REST endpoints, specifically within the realm of building apps using the Splunk Web Framework. It demonstrates the individual's proficiency in advanced behaviors, drill-downs, visualizations, app planning, creation, packaging, and working with REST endpoints.
This certification focuses on the management of the Splunk Enterprise Security environment, including tasks such as ES event processing and normalization, deployment requirements, technology add-ons, settings configuration, risk analysis settings, threat intelligence and protocol intelligence configuration, as well as customizations. Obtaining this certification showcases the individual's capability to install, configure, and effectively manage a Splunk Enterprise Security deployment.
Who Should Consider Obtaining Splunk Certifications?
System Administrators and Software Developers

Database Experts, Search Analysts, and Administrators

Individuals who are well-versed in Data Analytics concepts.

Fresh graduates interested in pursuing a career in Splunk can also consider undertaking Splunk Certifications.
How Can You Earn Splunk Certifications?
If you're eager to acquire Splunk knowledge and begin your career journey, you might wonder about the certification process. Continue reading to gain a comprehensive understanding of the detailed procedure.
The examination fee for a single exam is $125, while opting for five exams costs $500, resulting in a 20% savings. However, the actual cost lies in the training classes, which typically range from $1500 to $2000. On a positive note, the first fundamentals course is available free of charge. By completing this course and passing the exam, you can attain the Splunk Core Certified User status (refer to the table above).
If you have the financial means, you can enroll in subsequent classes and earn additional certifications, which will benefit your career. However, you prefer not to invest a substantial amount of money immediately. In that case, you can explore entry-level Splunk positions and leverage your Core User certification to secure a job. This way, you can gain practical experience as a Splunk professional while saving funds for advanced certifications in the future.
How to Pass the Splunk Certification Exam?
Decide which Splunk certification is Appropriate for You: When considering Splunk certifications, choose one that corresponds to your knowledge and proficiency in your particular domain.

Get Familiar with the Exam Blueprint: Take a close look at the exam blueprint offered by Splunk, which outlines the exam's subjects and goals. This will assist you in pinpointing the areas that require concentrated study.

Acquire Practical Experience: Since Splunk is a tool that requires hands-on usage, gaining practical experience with it is crucial. Dedicate time to working with Splunk, allowing yourself to develop a comprehensive understanding of its functionality and effective utilization.

Enroll in Training Programs: Splunk provides a diverse range of training courses that can assist you in your exam preparation. Explore the possibility of enrolling in the course, specifically tailored to enhance your readiness.

Use Splunk Documentation: Splunk offers comprehensive documentation encompassing all tool facets. Dedicate time to thoroughly read through the documentation, enabling you to comprehend better the various features and functionalities it provides.

Use Splunk Practice Tests: Splunk offers practice tests that consist of sample questions resembling the format and difficulty level of the actual exam. Utilizing these practice tests allows you to familiarize yourself with the question types and enhance your readiness for the exam.

Participate in a Study Group: Engage in a study group or online community dedicated to Splunk, where you can collaborate with fellow professionals to discuss Splunk concepts and share knowledge. This collaborative environment facilitates a more profound comprehension of the tool and offers valuable insights that can benefit your exam preparation.

Ensure Effective Time Management: Given that the Splunk Core Certified Power User Exam is time-constrained, it is crucial to manage your time effectively. Practice answering questions within the designated time limit and prioritize them based on their difficulty level. This approach will enable you to optimize your time allocation and maximize your performance during the exam.
Conclusion
Numerous businesses widely adopt Splunk for various purposes, such as enhancing cybersecurity, gaining customer insights, preventing fraud, optimizing business operations, and improving service performance. Prominent organizations like IBM, Salesforce, Facebook, HP, and Adobe have embraced Splunk globally. Obtaining Splunk certifications is essential to acquire skills and expertise in Splunk software. These certifications serve as a pathway to learn Splunk comprehensively and pave the way for lucrative job opportunities. If you aspire to pursue Splunk certifications, the optimal resources for exam preparation are the official Splunk training courses and practice tests available through the CertFun website.