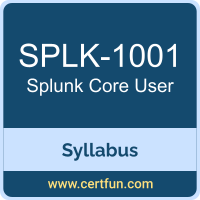 Use this quick start guide to collect all the information about Splunk Core User (SPLK-1001) Certification exam. This study guide provides a list of objectives and resources that will help you prepare for items on the SPLK-1001 Splunk Core Certified User exam. The Sample Questions will help you identify the type and difficulty level of the questions and the Practice Exams will make you familiar with the format and environment of an exam. You should refer this guide carefully before attempting your actual Splunk Core User certification exam.
The Splunk Core User certification is mainly targeted to those candidates who want to build their career in Core domain. The Splunk Core Certified User exam verifies that the candidate possesses the fundamental knowledge and proven skills in the area of Splunk Core User.
Splunk Core User Exam Summary:
Splunk SPLK-1001 Exam Syllabus Topics:
Topic

Details

Weights

Splunk Basics

- Splunk components
- Understand the uses of Splunk
- Define Splunk apps
- Customizing user settings
- Basic navigation in Splunk

5%

Basic Searching

- Run basic searches
- Set the time range of a search
- Identify the contents of search results
- Refine searches
- Use the timeline
- Work with events
- Control a search job
- Save search results

22%

Using Fields in Searches

- Understand fields
- Use fields in searches
- Use the fields sidebar

20%

Search Language Fundamentals

- Review basic search commands and general search practices
- Examine the search pipeline
- Specify indexes in searches
- Use the following commands to perform searches: tables, rename, fields, dedup, and sort

15%

Using Basic Transforming Commands

- The top command
- The rare command
- The stats command

15%

Creating Reports and Dashboards

- Save a search as a report
- Edit reports
- Create reports that display statistics (tables)
- Create reports that display visualizations (charts)
- Create a dashboard
- Add a report to a dashboard
- Edit a dashboard

12%

Creating and Using Lookups

- Describe lookups
- Examine a lookup file example
- Create a lookup file and create a lookup definition
- Configure an automatic lookup
- Use the lookup in searches

6%

Creating Scheduled Reports and Alerts

- Describe scheduled reports
- Configure scheduled reports
- Describe alerts
- Create alerts
- View fired alerts

5%
To ensure success in Splunk Core User certification exam, we recommend authorized training course, practice test and hands-on experience to prepare for Splunk Core Certified User (SPLK-1001) exam.