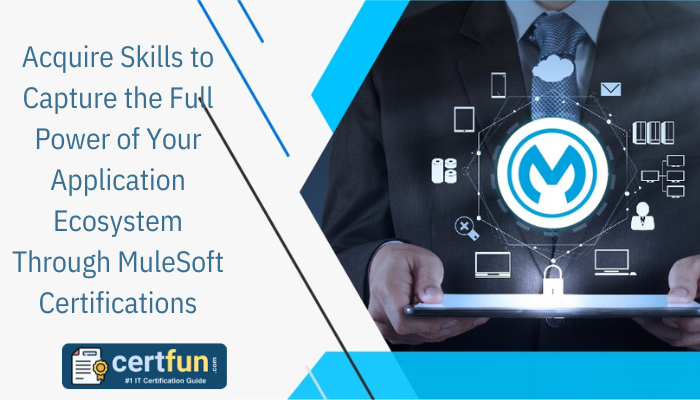 Integration platforms are crucial for decreasing complexity, particularly when businesses line up applications through a mix of on-premise and cloud-based systems. Mulesoft is a unified, integrated platform that makes it straightforward to design, build and operate APIs. Mulesoft entitles businesses to link data and manage applications and several products from their on-premise to cloud-based environments. Mulesoft certifications are designed for Developer roles and Architect Roles named Mulesoft Certified Developer and Mulesoft Certified Architect.
Overview of Mulesoft Certifications
MuleSoft Certifications work as evidence of your skills and expertise. They will help you promote your professional career as a Mulesoft developer if you pass the Mulesoft certification exams.
All of the IT knowledge needed to work as a mulesoft developer or architect is incorporated by a mulesoft certification. Certification can be split considerably into two groups: Architects and developers.
MuleSoft Certification Path
MuleSoft Developer Certifications
MuleSoft Architects Certifications
How to Prepare for the Mulesoft Certification Exam?
1. Create Study Plan And Stick to Them
The first order of the preparations should be to create a study plan for the exam and stick to it. Visit the Mulesoft official website and get the blueprint of the exam objectives. You can also come across the various preparation option on the official website. Set your targets to accomplish the exam objectives with the help of these study materials to sweep through the exam quickly.
2. Criteria And Guidelines Knowledge
Make sure you understand and satisfy the prerequisite to sit for the MuleSoft certification exam. It's a simple task but sometimes neglected. Comprehending precisely what is required will save you from making wrong decisions and reviewing overlooked essential topics.
3. Learn and Practice Syntax and Errors
The core purpose of Mulesoft certification exams is to evaluate one's skills as a developer. This signifies you must learn and practice to create or write the code. While inspecting the modules, ensure you read and understand the log messages, events, attributes, variables, etc., indexed in your Anypoint Studio template for each aspect. Commanding those will help you pass the MuleSoft certification exam with confidence.
4. Take notes while Studying
Take notes of what you're studying to read over them when you revise. These notes can be in the form of pictures, flow charts, paragraphs, or principal points — whatever fits best your learning style to help you best remember the information for when it comes time for your exam.
5. Gauge Your Preparation with Practice Test from Certfun
Practice tests are an integral part of MuleSoft certification exam preparation. For any MuleSoft certification exam you take, you will have to take up a couple of practice tests until you feel truly confident about your learning. It helps you become familiar with the type of questions you will encounter in the exam. On the other hand, it will also gauge how prepared you are to take the examination concerning accuracy and speed.
6. Develop Self Discipline
Each world's preparation and instruction are only as necessary as how it is soaked and utilized. It would help if you concentrated on your goal. Schedule your MuleSoft certification exam. Then create a study plan for learning the exam topics, and don't forget a final revision and practice tests before the exam.
It is equally important to follow it strictly, as it is vital to have a schedule. Impart sufficient freak time for unexpected happenings, but don't let it cause you to delay in the preparation.
MuleSoft certifications Practice Test from Certfun: Why Is It the Best Learning Tool?
Here are a few reasons why performing Mulesoft certification exam practice tests on Certfun is one of the best ways to prepare for the exam.
1. Performing Practice Test Will Build Your Confidence and Reduce Stress
Mulesoft certification practice tests on the certfun website follow the same structure as the actual exam. It feels like taking the real exam risk-free! By getting familiar with the real exam structure and types of questions, you'll decrease your stress level, which can be a significant barrier to giving all you can on your exam day.
2. MuleSoft certifications Practice Test Helps Improve Time Management Skills
By answering practice questions several times on certfun, you'll perceive how you do on specific sections and what are your weak areas.
That way, you can focus your time on the parts that matter the most and breeze through the more manageable parts. You'll be sure to build your endurance to stick through to the end of the exam. Keep in mind it's a marathon, not a sprint!
Benefits of Mulesoft Certifications
In the middle of all the digital transformation differences, businesses aim to find more advanced ways to enhance their customer experiences. That suggests they collaborate across platforms and applications to serve the everyday needs of their shared clients. This creates a reliable, widely available network that allows organizations to carry on their businesses without substantial changes to unify with systems they don't control.
With all these needs, Salesforce clients and partners are seeing more and more people with MuleSoft expertise to support their requirements. Certification with MuleSoft will put you ahead of the curve when looking for opportunities. You can start preparing for a MuleSoft developer certificate and fast-track your way up to a MuleSoft-certified Platform Architect, an Integration Architect, or both.
Better Job Prospects: In the fast-changing technological environment, organizations are working towards expanding skills and integrating across multiple platforms. Mulesoft certifications confirm the in-depth understanding of different tools and services needed to achieve faster integration of APIs, thus generating worldwide job opportunities for professionals.

Bigger Salary: To retain employees who are active and productive in achieving integration of various applications, devices, and data across platforms, organizations are offering higher salaries to Mulesoft-certified professionals globally.

Improves Career Development: The Mulesoft certifications confirm your skills in constant integration techniques and exceptional skills in a changing technological landscape which helps in the overall career growth of an individual. Professionals from different job roles can benefit from Mulesoft certification courses, such as IT Administrators, Solution Architects, Software Developers, Business Analysts, System Engineers, and Cloud Computing Professionals.
Final words
In today's ever-evolving technological environment, staying updated about the latest developments and integrating your services across multiple platforms is essential for gaining the client's trust. Mulesoft is one of the best tools to ensure seamless integration for existing and new systems. Mulesoft tools and services deliver the utmost productivity and proficiency for meeting customer demands and developing enterprises.