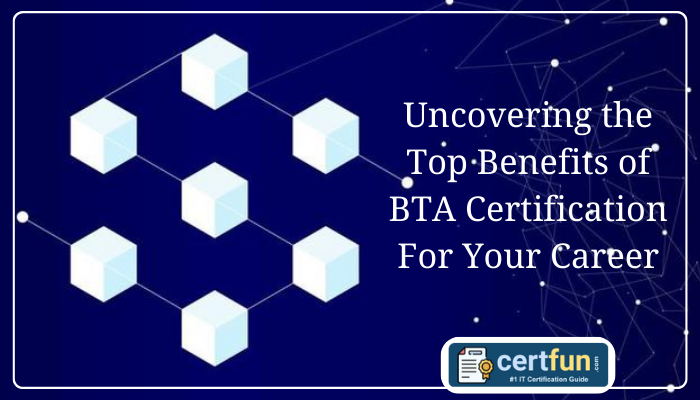 As Blockchain and virtual currencies make headway, the requirement for industry professionals skilled in technology upsurges, with certified professionals having the additional advantage of confirming their knowledge in the field. BTA is a vendor which is entirely focused on Block Chain certifications. BTA certification can improve your marketability, and BTA offers certificates in both Ethereum and Hyperledger.
Overview of Blockchain Certifications
BTA offers six certification exams, all of which are acknowledged for precision, authenticity, and significance by our Blockchain Certification Advisory Board (below). Each certification exam has its prep course, accessible as an on-demand course or instructor-led training. Below is a list of BTA certifications.
Blockchain Training Alliance (BTA) certifications are granted to individuals who obtain a score of 70% or more on a certification exam. Earning BTA certification proves the individual has the proven skills needed to assist in the adoption of Blockchain solutions.
The Blockchain Training Alliance (BTA) and computer-based testing leader, Pearson VUE, offer BTA certifications to equip software architects and developers with the necessary blockchain skills.
The need for Blockchain skills is increasing at the second fastest rate of any IT skill set. According to research from Upwork and LinkedIn reports, it's one of the most much-needed skills. The BTA certifications significantly add to any Blockchain professional's CV, and they may excel as applicants for many suitable and lucrative blockchain jobs.
Top Five Advantages of Having a BTA Certification
1. Higher Salaries
Blockchain has been termed the most desirable Job of the 21st Century. Blockchain design and effect is the most desirable skill in the freelance IT job market nowadays, extending by more than 6,000 percent since last year and organizing it in the trend to be the latest "Blockchain technology" of the 21st Century. There are lots of start-ups pursuing Blockchain expertise nowadays, and a large number of blockchain jobs are vacant. To gain attention on your profile and receive dream jobs at adorable pay, understanding Blockchain and having (Blockchain Training Alliance) BTA certification is a must now.
2. Understand Use-Cases
According to the latest survey, nearly 23% of multiple groups are now actively operating on Blockchain apps and using topics for their businesses. They commonly employ a Project Administrator, one or two Blockchain application developers, and two to four Blockchain, Designers. All the employees have good blockchain experience or at least Blockchain exercise practices and certifications.
BTA certification supports you in understanding the technology profoundly and working on real-life use cases being executed in the drives. The BTA certification syllabus also incorporates the details of Projects and evolving use-case in a particular situation.
That provides an understanding of what can be accomplished practically on the job. This is accomplished through the practice that the blockchain certification exam incorporates.
3. Better Orientation to Most Recent Tech
Blockchain Training Alliance certification is the landmark the professionals pride themselves in and has a far more helpful approach to blockchain technology than others. Every new technology is short and difficult to understand because of the unavailability of communal help and the existence of additional counter-views of professionals. BTA certification helps reduce that attempt by offering the best learning materials and authenticated in the ambition to support you in getting exposure to the latest technology.
4. BTA certification Gives Advantage Over Others
This Blockchain certification provides a professional advantage over other technology professionals because it demonstrates what kind of education they have received.
Learning the Blockchain from additional materials over the internet might provide an expansive knowledge of the technology, but you might need help getting where you want to be. For that to occur, you require a legal certification because the blockchain certification demonstrates your capability to understand and acquire training in this new tech that others are constantly working to understand. The practical performance knowledge in the certification program distinguishes you from the others.
5. More Prominent Positions
The BTA certification allows you to achieve near the leading managing in directing positions. Since the technology is new, and its performance is provocatively recent to the associations, the administration team is commonly curious about the on-ground blockchain project performance. Any certified blockchain expert immediately gets the job after receiving certification and proving their skills.
Top Test-Taking Strategies for Passing BTA Certification Exams
If you're engaged in cloud activity to achieve BTA certification, below are five tips and tricks to increase your odds of passing the exam successfully. These tips are followed by many industry experts who have already passed the BTA exams.
1. Define Objectives and Outline Them to Definite BTA Certification Exams
Before you enroll in the training course and start reading over the study guides, keep in mind the following points:
Define Essential Steps to Accomplish Your Goals

Consider your interest in Blockchain technology, and align it to in-demand Blockchain jobs. From there, you can decide which BTA certification exam you should opt for.

Earning appropriate certification will help you demonstrate your skills and stand out when applying for roles.
2. Obtain Relevant Study Materials
Now that you have decided which BTA exam, find appropriate study materials. You will find all the valuable online learning materials, be it training courses, study guides, practice tests, study communities, or forums.
Many platforms provide training courses for the BTA certification exam prep. You can also look for an authorized exam manual, which presents detailed and prescriptive advice on almost the exam topics to support you in prioritizing your analysis. Investigation of the platform's authenticity and reliability is the most beneficial in passing the BTA certification exams.
3. Find and Join Online Communities
There are lots of individuals who are preparing for the same BTA exam as you. In addition to online study resources, there are also different online communities where you can connect with someone who is also gearing up for a BTA certification exam. These online communities can offer you insider learning on almost the necessary aspects of exam preparation, valuable help to create the most of your exam preparation process, the actual exam experience, how to promote your BTA certification once received, and much more. You can participate in the BTA official community of over 100,000 students acquiring the skills of the future. Other significant platforms to locate online community is Facebook and LinkedIn groups.
4. Build Strong Study Habits
The time limit required for exam preparation and hands-on knowledge will vary depending on the BTA certification you opt for. A good practice for exam preparation is to devote at least one to two hours daily. Find a calm, organized place for exam preparation. Start exam prep with a positive mindset and clear goals in mind.
5. Use Practice Test
To pass the BTA certification exam on the first attempt, you must be familiar with the exam pattern, type of questions, and exam environment. Answering all the exam questions in a given time requires a lot of practice. Therefore, taking practice tests in an exam-like environment, such as the CertFun website, is recommended. This will expose you to questions and topics you still need to improve.
Achieving Your Goals
Blockchain technology and certifications offer an excellent possibility for presently employed professionals and employment seekers interested in acquiring new skills and grabbing the benefit of the growing professions in the Blockchain. Validating a provable level of Blockchain skills through the BTA certification exam can give a clear competitive advantage in the job market.