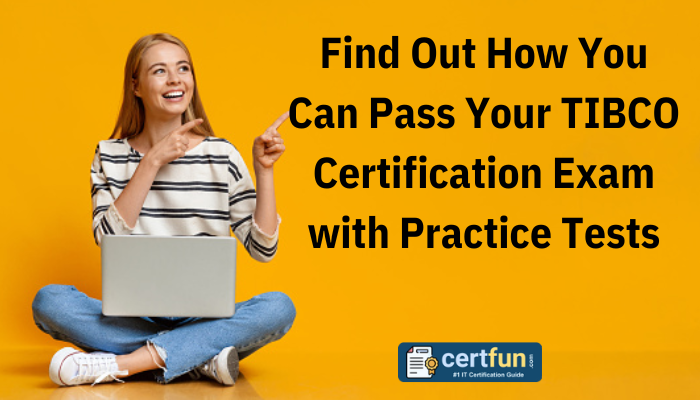 The TIBCO Certification exams is designed for all customers, partners, and IT professionals concerned with the development, design, deployment, and administration of TIBCO applications and infrastructure. TIBCO Certification improves your professional reputation, verifies your skill, and indications to organization, clients, and industry colleagues that you own the technical skills and knowledge to deliver excellent services.
Is TIBCO Certification Worth It?
The TIBCO certification track is destined for businesses and System Integrators with IT professionals and developers. Benefits of earning TIBCO Certification:
Proves individual expertise in TIBCO products, higher value to organization and clients.

Enhances grade and uniformity of TIBCO implementations.

Develops TIBCO technology professionals who produce more effective and strong solutions.

TIBCO Certification badge enhances online profiles, email signature, website.
TIBCO Certification Levels and Tracks
TIBCO Certified Associate

TIBCO Certified Professional

TIBCO Certified Administrator

TIBCO Certified Developer
Step-By-Step Guide for TIBCO Certification Exam Preparation
For the TIBCO certification exam preparation, there are lots of resources available online. But only the proper set of study materials will decide how well you learn and prepare for the exam.
Be certain to select the study materials that are trustworthy in the context of quality and are updated. TIBCo certification exmas are quite tough to pass, but with the below mentioned steps and dedication it is possible to pass the exam on the first try. So, Let us start.
1. Learn from TIBCO Documentation
TIBCO provides documentation which turns out to be a very helpful and most trustworthy learning material. The TIBCO documentation includes all the essential topics that will be covered in the exam.
2. Obtain Online Study Materials
The applicants can also take up online resources for TIBCO certification exam preparation like online classes and instructor-led training. Instructor-led training and Online courses are created by experienced professionals in the field of TIBCO.
They assist in producing the strong understanding of the concepts and solve doubts. The classes also offer with some vital notes which can act as a reference for the exam topics. There are lots of study materials that provide trustworthy and authentic learning materials.
Furthermore, TIBCO also provides its own instructor-led courses and online classes. You can assess them at the TIBCO official site.
3. Get Engaged in TIBCO community
Communities are most productive way of obtaining answers to your questions. Here you can not only ask about your queries, but also come across about many learning materials and technique of successful applicants. The online community is made up of people with equivalent interests or people who have already passed the exam. so, the online TIBCO communities can be used to know essential details about the exam which can be very beneficial. Become a memebr of the TIBCO community now and get your doubts be solved.
4. Use Practice Test
Practice makes a man perfect! Taking up practice tests will enhance your learning and leads to excellent performance in the exam.
Practice tests are the most practical resources for self-assessment. You can recognize your weak areas and can also identify knowledge gaps in your preparation. Taking up practice tests will offer you opportunity to work on weak areas before actual exam.
You can take a free practice test now! There are many trustworthy websites that offer uppdated and authentic practice questions which can be really useful, and one such website is certfun.
Top 10 Benefits of Taking Up TIBCO Certification Practice Test
One part of your study schedule that is usually neglected but vital to give you the best opportunity for success is attempting practice tests.
While obtaining reliable and updated practice tests for the TIBCO certification exam is challenging, many platforms provide reliable practice tests. One a such website is CertFun.com. Practice tests on this site come with lots of benefits. Here are a few of them:
1. Practice Tests Help You Assess Your Weak and Strong Areas
Humans are prone to only concentrating on the matters they are good at while ignoring their imperfections, and TIBCO certification exams are no different. Working on your weak areas is the only way to enhance them, and exercise tests help you do that by guiding you in actual time where you're most powerful and where you require to improve.
2. Practice Test Makes You Familiar with the Actual Exam Environment
Exam stress is common, and for those who suffer from it, taking a practice test can be as much about conquering self as it is about understanding the type of questions likely to be asked.
Attempting practice tests can help you by settling you in an atmosphere that simulates the actual TIBCO exam. The more practice tests you take, the additional satisfaction you'll feel when you step in on test day.
3. Practice Tests are an Excellent Method to Understand the Material
While flashcards and courses can help you know the study material, practice tests can help you conceptualize and comprehend the real ideas that can differ. TIBCO certification practice tests add another measurement to your knowledge by supporting you in directing your further preparation.
4. Practice Tests Support You Space Out the Understanding
One of the most meaningful things you can do in practice for the basic test is to begin as soon as possible. A proper way to cement the concepts you understand and reconsider them over time is by taking practice tests throughout your study time. A comprehensive practice exam comparative to testing day can promote your sense into recalling the information from before in your study time that may have reached stationary.
5. Increase Persistence
The time it takes to complete a TIBCO certification exam is commonly several hours. They require Persistence and full attention as well as energy. By taking practice tests, candidates can develop the strength necessary to do well on exam day. To improve their exam-taking constancy, candidates can take practice examinations. The idea of testing for hours on end may appear daunting at first, but the more you practice, the more comfortable it will become.
6. Enhance Your Time Management
Taking multiple practice exams helps you calculate just how much time you should reserve selection separately. On the day of the actual exam, there are a lot of cases out of your authority, but the timing shouldn't be one of them. Once you start taking up practice tests, your time management skills will gradually enhance.
7. Learn How to Deal with Exam Questions
Practice tests are utilized to decide what you understand and don't understand. When you practice constantly, you evolve familiarity with the exam's peculiarities. You have a specific learning of the structure, which not only allows you to obtain better every day with the method but also allows you to more helpful plan your examination tactics.
8. Track Your Learning
Practice exams provide you with an study of the questions and topics that require to be managed. Following your improvement is an extraordinary process to decide which study strategies are producing effects and which should be dumped. Exact assembling a baseline with a single practice exam can supply you with the knowledge you require to decide which locations need your concentration. Of course, the better data topics there are, the additional whole the image evolves. Accept multiple practice examinations to obtain more additional details and particulars; this will help you in determining your stability and drawbacks.
9. Reduce Stress
Whatever are your causes for examining, stress increases as the exam day comes? Candidates may confirm optimum consolation and little fear by taking a practice exam. The more practice tests you perform, the more calm and composed you will be on test day. It's real to be worried before a test, but the more you practice, the less worried you will be.
TIBCO certification exams are a way to sample your learning. Again, they're true prophets of a candidate's mastery to execute under pressure. Ultimately, practice exams can provide you the trust you require to accept the actual exam with as short a priority as probable. It's comfortable to persuade yourself that you're heading to forget or don't understand any of the concepts when you don't understand. However, after taking a number of TIBCO certification practice tests on the CertFun website, you may feel relaxed knowing that you've been placed in the effort. Practice exams are just one instrument in your examination resources, but they are accommodating and beneficial in relieving exam tension.
10. Improves Test-Taking Skills
Practicing before an exam allows you to understand the nature of the exam. It will help learners to create methods and walk up. Training for an exam is better than remembering particulars and information and then repeating it on a practice test. It needs strategic planning for different exam questions. This mastery takes time to extend, and your performance may improve if you consider it on time.
Taking practice tests, regardless of how you study for the actual exam, might aid you in more ways than you would think—taking a practice exam, obtaining a good night's sleep, and having a nutritious meal before the real test is an excellent approach to diversifying your study technique and securing the most satisfactory possible outcomes for the actual metier.
Conclusion
There is no "magic formula" to passing the TIBCO certification examinations. But with perseverance and hard work, you can guarantee yourself the most prominent chance of success! Take into account the TIBCO certification exam tips and tricks mentioned above to get the most out of your exams. All the Best!